American Bullies are known for their loyalty, gentle, and affectionate nature. This makes them an excellent choice for a companion or family dog .
Similar as with many other breeds, American Bullies also exhibit an unusual coat pattern that is known as "merle. The rarity and attractiveness of this coat made Merle Bully a desiring pet for some pet owners and breeders.
However, many associations and clubs don't recognize them as part of American Bully's breed for the sole reason that they're more susceptible to severe health issues.
Hence, if you want to get a Merle Bully pup, it's essential to know some basic info about Merle Bully before bringing them home.
This article contains everything you need to know about this beautiful sweetheart. Read on!
What Is A Merle Bully
Merle Bully is basically an American Bully that is born with a unique coat color due to a specific genetic mutation.
In fact, it's a mutation that isn't just confined to American Bullies, but also occurs in several other dog breeds.
Generally, "Merle" pattern is characterized by numerous diluted patches and swirls on the coat, giving it a unique blotchy look.
There is no one "merle" coat pattern. Each coat may vary in color and pattern across different pups. In other words, every Merle Bully is unique to its own. This makes them quite sought after for pet owners that want to stand out.
Usually, breeders try to get Merle Bullies by breeding a normal American Bully with one that has the mutated merle gene. As a result, they will get a litter of both merle and no-merle puppies.
Sometimes, they will also breed one merle with another merle so as to seek puppies that are "double merles".
However, the breeding practice is currently raging a debate in the American Bully community.
Reason is the genetic mutation not only alters the coat pigmentation or the eyes color, but also impacts their health. (We'll talk more about this later.)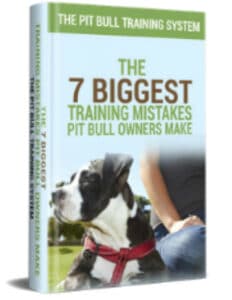 Get the 7 Biggest Training Mistakes free report!
Types Of Merle Bully
As mentioned, Merle Bullies can be of different types. Depending on their coat colors, they are divided into the following types.
Blue Merle
This is actually the most common coat color among Merle Bullies. Despite the name, Blue Merle Bully isn't actually blue in color.
Instead, Blue Merle Bully has a gray-color coat marked with black patches. Under certain types of lighting, this gray-color coat with black patches will appear bluish, hence earning them the name Blue Merle.
Blue Merle Bully also often gets mistaken for tri-color American Bully due to the similarity in the coat colors. However, upon closer inspection, you will notice that they are actually different from each other.
Red Merle
The same as Blue Merle Bully, Red Merle Bully, too, doesn't have a red coat. Instead they have either tan or black coats.
Often, Red Merle Bully will have several dark patches on their coats rather than the usual diluted ones.
In addition, they are much rarer than Blue Merle Bully; with only a small proportion of American Bully able to produce offspring with this coat color.
Cryptic Merle
Cryptic Merle Bully doesn't exhibit the unique mottled coats we usually find in Merle Bullies, even though they possess the merle genes.
It's unknown why they don't show the merle pattern on their coats. Even so, this doesn't mean they cannot pass the merle gene onto their offspring.
In fact, you will find a few merle puppies among the litter, in spite of the parents not showcasing similar coat patterns.
Double Merle
Double Merle Bully is the result of interbreeding two Merle Bully parents.
Through the interbreeding, breeders will get at least one-fourth puppies in the litter to be born with double merle gene.
A Bully that carries a double merle gene generally has white coats.However, despite the beautiful coat, these poor canines are also prone to several health issues, including loss of vision and hearing.
Possible Health Issues Of Merle Bullies
As mentioned earlier, there is a heated debate about the practice of breeding Merle Bullies. Frankly speaking, breeding Merle Bullies are often frowned upon since these dogs are prone to severe health issues.
While no one knows the exact reason for their vulnerability, the merle gene certainly is playing a big role as the culprit.
Therefore, it's not surprising that Double Merle Bullies suffer far more serious health problems than their single merle gene counterparts.
The most common problems among Merle Bullies include gradual loss of vision and deafness. Some other health issues include heart defects, epilepsy, allergies, neurological problems, cleft palate, skin cancer, and so on.
In addition, all these health complications will gradually get worse as they grow older; ergo why there are many debates surrounding the practice of merle breeding.
For this reason, breeders must run proper health checkups for the parents before breeding to ensure a comparatively healthy litter.
The same goes to pet owners, constant veterinarian visits are a must. Besides, you can consider feeding supplements to boost your dog's immune system so as to increase their chances of living a healthier life.
Merle Bully Characteristics
If you have been thinking of getting a Merle Bully, understanding the basic info on Merle Bully will be helpful before making your final call.
Below are some Merle Bully basic info and characteristic for your references.
Physical Traits
Merle Bullies are muscular dogs with broad heads and pointed ears. Their coats are short and smooth. Also, they don't shed too much.
They have pretty much the same physical appearance as American Bullies, except their coat and eye color.
Among Merle Bullies, the most common eye color is blue. Of course, you will find some having brown eyes too. In some cases, which is not that rare, you may also find several Merle Bullies with one blue and one brown eye.
Temperament
Merle Bullies may have an aggressive look, in reality, their temperament is completely the opposite.
Merle Bullies are not only obedient, but also intelligent and courageous; which explains why they perform well as guard dogs.
Personality wise, Merle Bullies are friendly. They get on exceptionally well with families and are often very tolerant towards children, making them a great option as family pets.
Merle Bullies are also kind and affectionate. They love being showers with attention and cuddles from their owners. Eager to please, this breed is relatively easy to train as well.
Just like any bully's breed, Merle Bully has a substantial amount of energy. Hence, it's important to make sure they exercise, or go for a walk at the park regularly.
Summing Up
Aside from their strikingly different coat colors, Merle Bullies are no different than the regular American Bullies when it comes to their personality.
They are friendly, affectionate, and playful, making them a good choice as companion dogs. However, due to the dominant merle gene, they are more prone to severe health issues.
Hence, prior to bringing one home, learning about Merle Bully basic info will be beneficial for you. You will learn about the responsibilities you will have to carry in taking care of them, especially the health issues they might face.
With that being said, you can think about getting a pet health insurance for your Merle Bully's puppy since a regular medical checkup is a must when you're raising one.
In addition, it's best to confirm if the parents have undergone health testing prior to breeding. This at the least increases the chances of getting a puppy that is healthy.