One of the most recognizable physical features of American Pit Bull Terriers is their ears. Are you one of those people wondering if their ears are naturally pointed or if it results from selective breeding?
Well, the answer to this question may surprise you! Read on as this article will explore the types of ears American Pit Bull Terriers can have and the reasons behind their variations.
Do American Pit Bull Terriers Have Pointed Ears?
American Pit Bull Terriers can have several types of ears, varying greatly in shape and size. This different variation is because their ears are not specifically bred to be a certain shape or size. In fact, it is influenced by American Pit Bull Terries rich breeding history.
In other words, genetics play a huge role in determining the type of ears a pitbull will have. Nevertheless, external factors like environment can influence the ear shape of American Pit Bull Terriers.
In terms of ear shape, American Pit Bull Terriers can have either natural or cropped ears, Natural ears are those that have not been surgically altered in any way and are allowed to grow naturally.On the other hand, cropped ears have been surgically altered to create a pointed or erect appearance.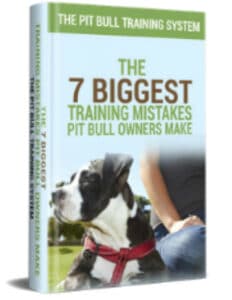 Get the 7 Biggest Training Mistakes free report!
What Are The Different Ear Types Of An American Pit Bull Terrier?
Cropped Ears
Cropped ears are perhaps the most recognizable type of ear for American Pit Bull Terriers. This procedure involves surgically removing a portion of the ear flap and then shaping the remaining tissue to create a pointed ear.
However, there is a controversy surrounding this procedure. As a matter of fact, the practice of ear cropping is even illegal in some countries. Those who support ear cropping argue that it gives the dog a more intimidating appearance and can prevent ear infections. However, opponents argue it is unnecessary and can be painful for the dog.
Natural Ears
Natural ears are the ears that American Pit Bull Terriers are born with. They can come in various shapes and sizes, ranging from small and rounded to large and floppy. Take note that the genetics of its parents determines the shape of a Pit Bull's natural ears, and it can vary greatly from dog to dog.
Rose Ears
Rose ears are a specific natural ear type common in American Pit Bull Terriers. They are small and folded over, with the front edge of the ear curving back towards the head. The fold in the ear creates a rose-like shape, which gives this type of ear its name.
Also, these types of ears are considered desirable in the breed standard and are commonly seen in show dogs. However, not all Pit Bulls have rose ears, and their presence or absence does not impact the dog's health or temperament.
Button Ears
Button ears are another natural ear type common in American Pit Bull Terriers. They are small and rounded, with the ear flap lying flat against the head. Button ears are often seen in young Pit Bull puppies but may change shape as the dog ages.
This type of shape is often confused with cocked ears, they are pretty similar, the main difference is that button ears fold long enough to cover the dog's ear canal.
Final Thoughts
Basically, American Pit Bull Terriers can have pointed ears. As a matter of fact, it's important to remember that the shape and size of a Pit Bull's ears can vary greatly, which is usually influenced by genetic or external factors.
Ultimately, the shape of a Pit Bull's ears does not impact its health or behavior, and all ear types are considered normal and acceptable within the breed standard.