Cesar Millan, a.k.a. "The Dog Whisperer," is a controversial figure in pit bull circles (well, not just in pit bull circles, but that's where our focus lies). On one side, there are those who believe that Millan is owed an enormous debt of gratitude by the pit bull community for his work with Daddy (Millan's gentle pit bull who was instrumental in improving public perception of our breed), and that his training methods may be politically incorrect, but highly effective.
On the other side, there are those who call his methods abusive to dogs and dangerous to people, while accusing Millan of setting dog training back by at least twenty years. Who's right and who's wrong? We'll explore the good and the bad about Cesar Millan.
Battle of the Dog Trainers
The first thing you need to know in order to understand the Cesar Millan controversy is that the world of professional dog training is sharply divided. It's frequently stated that the divide is between trainers employing aversive techniques and trainers using reward-based methods, but that's not entirely correct.
Most reward-based systems such as clicker training do utilize aversives. Turning around and walking 10 steps in the opposite direction when your pit bull starts pulling on her lead to greet an approaching canine friend is an aversive training technique (in operant conditioning, it's what is known as negative punishment; see the preceding link for an explanation of the terminology).
What it is not is a pain, fear, or intimidation based technique. That and the fact that aversives constitute only a very small part of the training system, as opposed to being the main item on the menu, are where the real divide is.
Fifty years ago, nearly all dog trainers employed primarily aversive methods. Cattle prods, hanging dogs by their collars until they almost lost consciousness, holding their heads under water–these were considered acceptable "training methods" once upon a time.
By the mid-1970s, a new crop of dog training experts began to emerge. These new dog trainers were gentler than their predecessors and even incorporated some reward-based techniques. Their primary focus, however, was on dominance and pack leadership. In order to have a well-behaved dog, you had to be a strong pack leader, they told dog owners.
Supposedly dogs, like wolves, naturally lived in a strict hierarchy, and even the most innocuous behavior–such as an excited puppy rushing to run through a doorway ahead of his human–was actually an attempt by the dog to assert his dominance. Dog owners were advised to be vigilant about canine power plays at all times, and by feeding your dog before you sat down to enjoy your own meal or allowing your dog on the furniture, you were definitely inviting trouble.
In order to show their dogs who's the boss, dog owners were told to use techniques such as "alpha rolls" and "scruff shakes" that were supposedly based on canine pack behavior.
Except that they really weren't.
Pack hierarchy and dominance theories are derived from a few wolf studies from the 1930s and 1940s that were rife with supposition and misinterpretation. For instance, while a subordinate wolf may voluntarily roll over on his back to appease a higher-ranking pack member, the only time a wolf would forcibly roll another wolf on his back is when he intends to kill him. This explains the intense terror, fear, loss of trust, and sometimes aggression dogs experience when "alpha rolled" by their humans.
By the early 1990s a new approach to dog training started to emerge. Combining B. F. Skinner's principles of operant conditioning with the latest research on canine behavior and psychology, animal trainers and behaviorists such as Karen Pryor, Jean Donaldson, and Dr. Ian Dunbar began demonstrating that dogs could be trained very effectively without the use of force, fear, or intimidation.
The reward-based techniques they employed weren't actually new–they had been used for decades to train animals for the US Navy and the CIA as well as to train marine mammals at places like SeaWorld–but Pryor, Donaldson, and others were instrumental in introducing these training methods to dog owners. Meanwhile, evidence began to mount indicating that fear and pain based aversives could cause and aggravate the very behavior problems they were supposed to prevent or solve.
During the last two decades, positive reinforcement training has steadily picked up steam and pain/fear-based methods have increasingly fallen out of favor. This makes the success of Cesar Millan difficult to understand for many positive reinforcement trainers, and has even led some to speculate that we may be witnessing a backlash against reward-based training methods.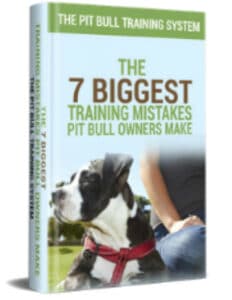 Get the 7 Biggest Training Mistakes free report!
Cesar Millan: The Bad
Millan is a throwback to the 1970s pack leader/dominance school of dog training. However, the idea that canine packs have one leader who acts as a dictator has long been discredited. We now know that canine pack hierarchies are much more fluid and cooperative than we used to think. The alpha male and female are the breeding couple (although large packs may have more than one breeding pair), but different animals take the lead in different areas of pack life.
Millan's training method is heavy on pain and fear based aversives, but use of force or intimidation are completely unnecessary to be a good pack leader. You can be a strong leader through simple control of resources. By making access to certain resources contingent on certain behavior, your dog learns that it pays to act the way you want him to act. Note that resources doesn't just mean food or treats; it can mean access to the outdoors, getting to sit on the couch with you, being allowed to greet your guests, playtime with another dog, going on a walk, a round of tug–anything your dog wants to do can be used to reinforce the behavior you're looking for.
And in the event that punishment is necessary, it can be achieved by removing a desired resource; there's absolutely no need to resort to physical forms of punishment or intimidation.
Not only do dogs trained with reward-based methods typically learn faster and retain lessons longer (most likely because they are active participants in the learning process as opposed to just doing what they are forced to do), but studies indicate that one in four dogs trained with pain and fear based aversives will respond with aggression.
While such a response can occur even under the supervision of an experienced trainer (in one episode of Millan's show a dog tormented by a shock collar turned to bite his owner in an act of desperation), it's most likely to occur when pain and fear based techniques are attempted by non-professionals. Millan's TV show does include constant admonitions to dog owners not to try what they see Millan do at home, but human nature being what it is, such warnings frequently fall on deaf ears.
After all, Millan does seem to get results and often in a very short period of time. This entices many into attempting his techniques on their own dogs–often with disastrous consequences. It's not that pain and fear based aversives don't work. They do. The problem is that they're very difficult to administer correctly, and they can have extremely negative side effects.
Take leash corrections, for example. In order to be effective, they need to be applied in a fraction of a second with exactly the right amount and type of force. That's not something an individual can learn from reading a book or watching a TV show. You need a trainer standing right next to you, demonstrating the technique and reviewing your performance. And even then, many people can't do it right.
Even when pain and fear based aversives are applied correctly, there's a substantial risk of aggression, loss of trust, and behavioral problems. We know of people who are still using daily counterconditioning exercises to repair the trust damaged by the "alpha rolls" they administered five years ago.  The relationship with their dog has never been the same since they used this antiquated, wrongheaded technique. Of course not all dogs will respond badly to Millan's methods, but why take the chance?
Cesar Millan: The Good
Millan's love of pit bulls and his work with Daddy, the gentle American Pit Bull Terrier who passed away earlier this year at the age of sixteen, have indeed helped to reshape the public's perception of pit bulls. Millan has also done tremendous work with abused and abandoned dogs. Of course that does not mean that his training methods are ideal for pit bulls or even for pit bulls requiring rehabilitation. It's worth noting that Michael Vick's pit bulls were rehabilitated without the use of pain and fear based aversives.
Cesar Millan is right to emphasize the importance of exercise and the role insufficient physical activity plays in many canine behavioral problems. While not a cure-all, increasing the amount of exercise your dog gets almost always results in a happier and better behaved canine companion. And of course exercise is particularly important for high energy breeds such as pit bulls.
Millan is also absolutely right about the need for consistency and the importance of working with your dog every day. While he often says that there are no quick fixes, this message is undercut by his TV show, which routinely shows him seemingly solving major behavioral problems in the course of a single episode.
We also like his emphasis on dogs teaching other dogs. Many people realize that dogs can pick up bad habits from one another, but a well-behaved dog can also teach a new arrival what type of behavior is expected in your household. Millan is right that sometimes a dog's best teacher is not a human, but another dog.
The Bottom Line
Cesar Millan is a gifted dog trainer and a charismatic entertainer. He knows how to communicate with dogs, how to read dogs, and how to interact with dogs. The bottom line is that virtually any training method can yield good results when applied by a talented professional with a natural affinity for dogs.
The real test is how the method fares when applied by average dog owners, and this is where techniques based on pain and fear run into trouble. When reward-based techniques are administered incorrectly, the worst that can happen is that they will be ineffective. Pain and fear based techniques applied incorrectly, on the other hand, can put dogs and humans in danger and exacerbate behavioral problems.
One thing all dog trainers can agree on is that dogs need training, and Millan's popularity and entertaining TV show have encouraged many more people to start working with their dogs. This is a good thing.
I don't see Millan's success as a backlash against positive reinforcement training. Those of us actively training our dogs–whether for competitive obedience, agility, etc. or just for good manners–sometimes have a tendency to overestimate how much the average American knows about the different dog training philosophies. People follow Millan's advice because they haven't heard a better alternative. The good news is that as his fans begin to learn more about dog training, there's an excellent chance they will hear about and choose more enlightened methods.