You are considering adopting or buying a dog, and one breed you are considering is a Pit Bull Terrier, or one of several breeds that are closely related to this breed. There are many reasons to get a pitbull!
It is important that before you take any steps towards becoming an owner that you thoroughly research the breed so that you understand the challenges of owning this loyal, yet controversial breed.
99% of issues that arise with pit bulls have to do with owners who are idiots. The truth is that this breed has many good traits. A super-dog, if you will. And although the media focuses on the negative aspects, in reality they can be awesome pets for the smart owner.
Below you can find the main reasons why Pit Bulls make great pets!
Are PitBulls Loyal?
Yes, despite what a lot of people believe, Pitbulls are loyal to their owners. Pitbulls are very loving, affectionate, and loyal animals. If they are shown love and affection, then they will always return that love back to us.
Loyalty from our Pitbulls can be shown in many ways, such as by protecting us, bringing us their toys, leaning on us, and following us. While they may favor their owners, their loving and people-oriented personalities allows them to become loyal to other people if they are treated well by them.
When adopting a Pitbull, you are not just getting a pet, you are also adopting a companion who will be loyal to you and those around it throughout its life.
Of course, the loyalty a Pitbull has for us as their owner depends on the way we treat them. Since pets mostly cannot care for themselves, they rely on us to do so.
Pitbulls are aware of when we provide them with things like shelter, food, love, and appropriate care.
Repetitively doing these things allows a bond of love and trust to be formed between us. This proves to Pitbulls that we are loyal to them, and they can be loyal to us in return.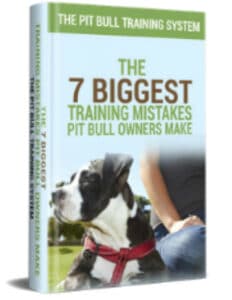 Get the 7 Biggest Training Mistakes free report!
11 Reasons Why You Need A PitBull In Your Life
1. PitBulls Are Affectionate Companions
Pitbulls are wiggly, cuddly, affectionate dogs. If you don't like dog kisses then consider another breed, because most pitbulls love licking. The same goes if you have children and you don't want them to be a regular target for face washes.
Pitbulls are not aloof – they like to remind you regularly of how they feel about you, and in general this means a lot of tail wagging and kissing.
2. Generally Healthy And Easy To Care For
Yes, pit bulls require a reasonable amount of attention. They do not, however, need a lot of care. Pit bulls have short coats and are normal shedders, and only need to be brushed semi-regularly.
They don't tend toward genetic disorders like some other breeds, although they should be inspected at puppyhood for signs of hip dysplasia, but this is a good idea for most medium to large breeds anyway.
Most pitbulls do not get larger than 50 to 60 pounds, although there are some larger sub-breeds.
And as long as you exercise the dog regularly, a pitbull can be very comfortable in a small dwelling.
3. People-Orientated, When Socialized Properly
Pitbulls love people. Although this breed frequently gets a bad rap in the media, if you have ever met a pitbull that was raised by a loving, conscientious family then you will understand how much they like to be with people.
The downside of this personality trait is that they can get overexcited when they meet new people, which is something that needs to be addressed through training and positive reinforcement.
4. Pit Bulls Are Loyal To Their Owners
Your pit bull will be you and your family's best friend from the day you take them home to the day they pass away.
While they will be naturally protective of their family and their property, because pitbulls are so people-orientated they do not make good guard dogs. Unless you just want them to smother intruders with hugs and kisses.
5. Eager To Please
A pitbull will always do it's best to make you happy, as long as you are clear about what you expect from them.
Many people will mention the fact that this breed is notoriously stubborn, but once they realize that you are the boss, they will work hard to ensure that you were happy with them.
This breed can be challenging, and is not recommended for first time dog owners as you need to be comfortable and confident that you can handle the breed, otherwise they will pick upon the fact that you are less than sure of yourself.
6. High Tolerance For Pain
Sometimes presented as a negative trait, the fact that pitbulls have a high pain tolerance makes them exceptional family dogs.
They easily (and happily) put up with the rough play of children without reacting. At the same time, pitbull owners may have to invest in prong collars, as the shoulder and neck strength of the pitbull means that sometimes an average collar will not do.
It is important that when considering a pitbull as a pet that you carefully screen all puppies and adult dogs to ensure that they respond positively.
Dogs of any breed that show fearfulness or aggression towards people or other dogs should be avoided, particularly as a family pet, unless you are willing to put in a lot of extra time and money into behavioural training.
To be a successful and responsible pitbull owner you need to at all times have your pet under control.
Dogs should never be left unsupervised with other dogs or children, and should never be allowed to roam off leash except in controlled dog-friendly spaces.
Remember that as a pitbull owner you are charged with showing the positive side of this breed, so make sure that you always have a friendly and well behaved pet.
7. Pit Bulls Are The Best Cuddle-Buddies
Once you bond with your furry Pitbull friend, you are in for a surprise! Contrary to their aggressive reputation, these dogs actually love to snuggle up to their owners. As much as they show affection, they also don't shy away from demanding the same.
So, your dog is likely to come up to you for cuddles (very) frequently.
This is irrespective of whether you are curled up on the bed or sitting on the couch while working. Your furry friend is sure to snuggle up close to you and demand to be petted.
And even though they are too big to be a lapdog, that's not going to dissuade them from climbing up on your laps whenever they get the chance.
So if you were looking for a friendly dog with whom you can cuddle up while doing absolutely anything, you now know which breed to choose.
8. Have A Fun And Playful Personality
Pitbulls have a likable personality, and this is one of the many reasons to get a Pitbull. They are fun as puppies and this doesn't change even a bit as they grow older.
These goofy animals will do the silliest things to get your attention, so you can expect a lot of entertainment in line for you every single day.
Get ready for a good laugh when you have a Pitbull around, as they are going to brighten up your day with their hilarious antics.
9. They Are Low-Maintenance Dogs
Pitbulls are fairly low maintenance dogs, making them a suitable breed for working individuals. They have short coats and don't tend to shed too much – so you won't need to spend a lot of time grooming their fur.
That also means less fur to clean up from the floor and carpets! That said, you do need to bathe and clean them on a regular basis – although that won't be taking up much of your time.
10. Get On Well With Children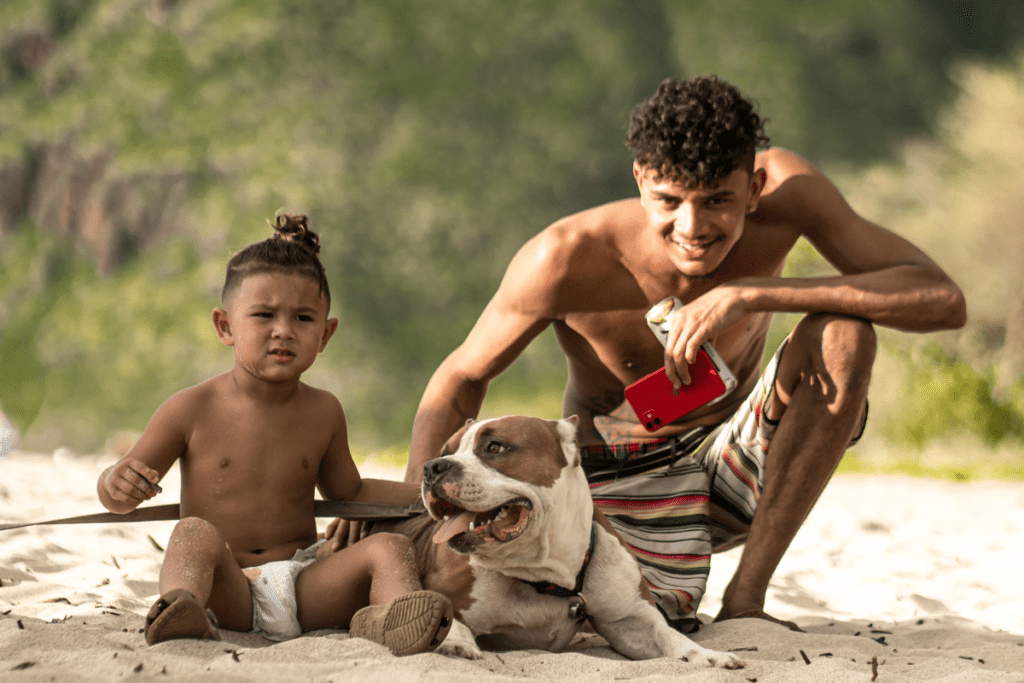 Pitbulls are highly social dogs, and get on well with children and adults alike. Of course, just as with any other breed, smaller children do need to be supervised while interacting with these dogs.
But when raised with love and care, Pitbulls aren't hostile towards anyone.
Although they are a good choice for families with children, this means that they aren't suitable as guard dogs at all.
11. Comparatively Easy To Train
Last but not least, another major reason to get a Pitbull is that they are highly trainable. Compared to several other dog breeds, Pitbulls respond well to commands and learn rather quickly.
Being eager to please, they are more likely to do your bidding when handled with love and patience. When trained from an early age, these dogs can develop an obedient and likable personality.
And that's not all, being intelligent dogs, pitbulls can learn and remember a wide range of tricks.
How Do Pitbulls Show Loyalty?
One way Pitbulls may show their loyalty is by protecting their owners. There have been many stories about Pitbulls putting themselves at risk to protect the people around them, but this does not mean they resort to violent behavior.
This could be as simple as barking to let us know danger is near or to scare off what they feel threatens their loved ones.
However, there are also other ways Pitbulls let us know they are loyal to us that may not be as obvious.
This includes bringing us their toys, cuddling us, following us, leaning on us, kissing us, or simply acting happy when they see us.
While these gestures may not seem as big as protecting us, they are all behaviors that prove our Pitbulls have developed love, trust, and loyalty for us.
Will A Pitbull Be Loyal To More Than One Person?
Most of us have other family members who are around our Pitbulls, or some of us may be considering adopting a Pitbull from a previous owner, so it is normal to be concerned that they may not develop a bond with anyone else.
Thankfully, Pitbulls are very loving and social animals. They can quickly be rehomed and learn to bond with new people.
As mentioned before, it is all about how we care for them and make them feel.
If a Pitbull feels loved and cared for by other people, then he or she will return that love to them.
Conclusion
Pitbulls are often stereotyped as being dangerous or aggressive – but, this is often the result of wrong training or abusive owners. When trained properly and showered with love and attention, these adorable dogs could be just the best pets you could ever hope for.
Energetic, friendly, and loyal, Pitbulls are in no way inferior to any other breed in terms of being suitable as a family dog.
If you are still not convinced, we hope our 11 reasons why they make the best pets have helped you decide!