How do you train a pit bull? That's the question many dog owners who want to bring home this breed are faced with.
The truth is, it can be hard to find the right methods to train Pit Bulls without going crazy. After all, they aren't like other dogs and can require different training methods.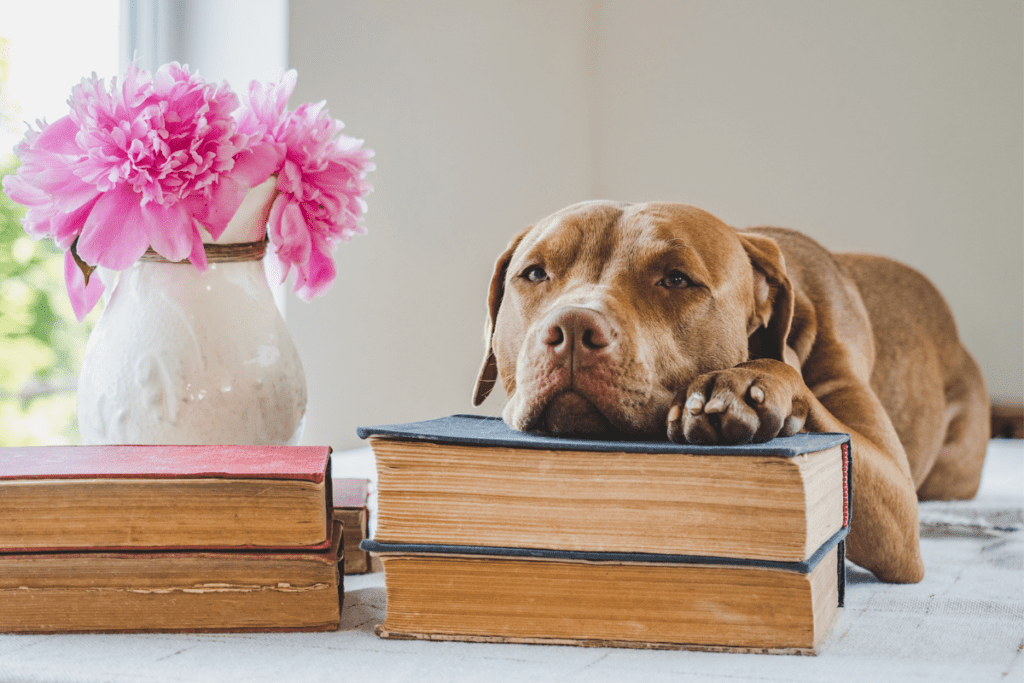 But with these 10 tips, your Pit Bull will learn in no time how to do what you ask and behave at all times.
So, are you ready to start training your pit bull? Here we go!
1. Get A Dog Trainer
Though it's possible to train pit bulls on your own, it's best not to. These dogs are known for being stubborn and independent, so getting an experienced dog trainer can make all of the difference.
A professional can give you tips on how best to handle different situations as well as provide additional training if needed.
Some people think that it's impossible for them to train a pit bull because they have such powerful jaws, but that isn't true at all!
If you do your research and talk with other dog owners, you should be able to find an awesome trainer in no time.
There are plenty of experienced trainers out there or you can also check out this great online course to train your dog that many people have successfully followed before.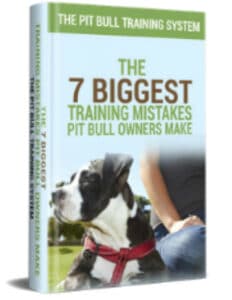 Get the 7 Biggest Training Mistakes free report!
2. Use Positive Reinforcement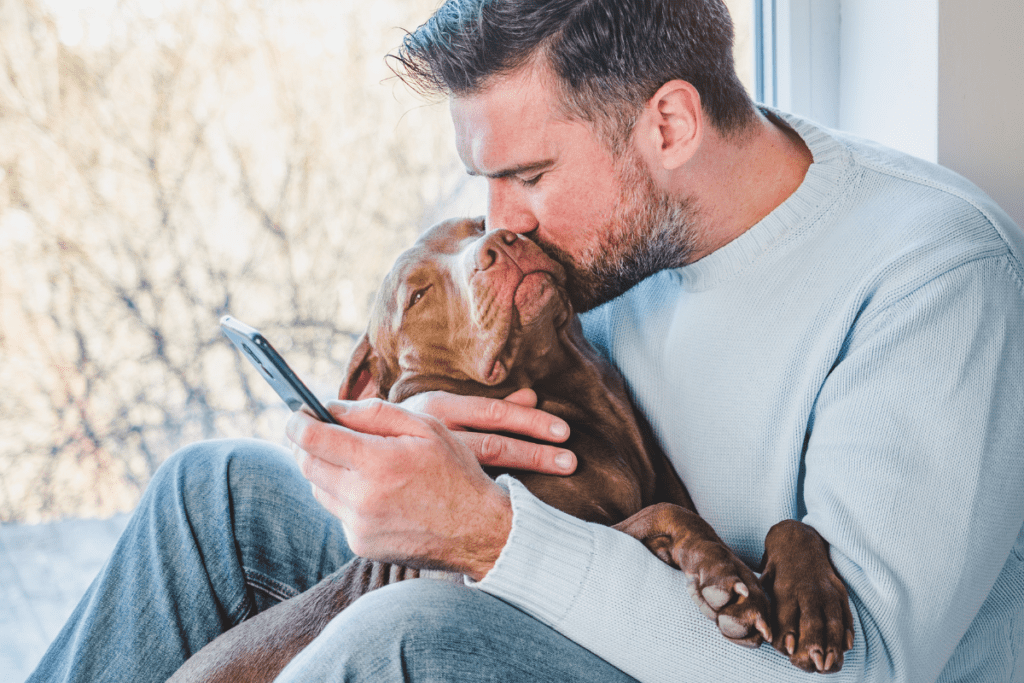 Punishing your pit bull for bad behavior won't solve anything. Instead, focus on rewarding good behavior in an effective way.
If you think back to all of your high school science classes, you'll remember that reward is more powerful than punishment when it comes to shaping behavior.
So whenever your dog does something right, make sure he knows that he did something right by giving him treat, a pat or saying good boy and then offer him a treat as soon as possible.
Over time, his positive associations with good behaviors will trump any bad associations with punishment and negative reinforcement – making training much easier for both of you!
3. Don't Expect Too Much Too Soon
When training a pit bull, you shouldn't expect too much from him too soon. A pit bull isn't going to be able to sit, roll over and play dead immediately upon meeting you; training takes time.
This is especially true with aggressive dogs. Even if your dog seems like he'll be easy to train, give yourself at least two months before giving up on his progress and considering other options (such as sending him away for specialized training).
Remember: Training shouldn't feel like work for either of you.
Focus on what motivates your dog, food or toys for pit bulls, and keep sessions short so that neither of you get bored.
4. Never Hit Or Scold Your Dog
In order to train your dog properly, you should never hit or scold him. You might be tempted to do so, but dogs don't really respond well to violent methods of training.
Instead, teach your pooch basic commands like sit and stay; reward him when he follows them and gradually increase their difficulty as time goes on.
If he doesn't obey, try walking away or putting something else in his mouth; eventually he'll come around.
5. Play As Much As Possible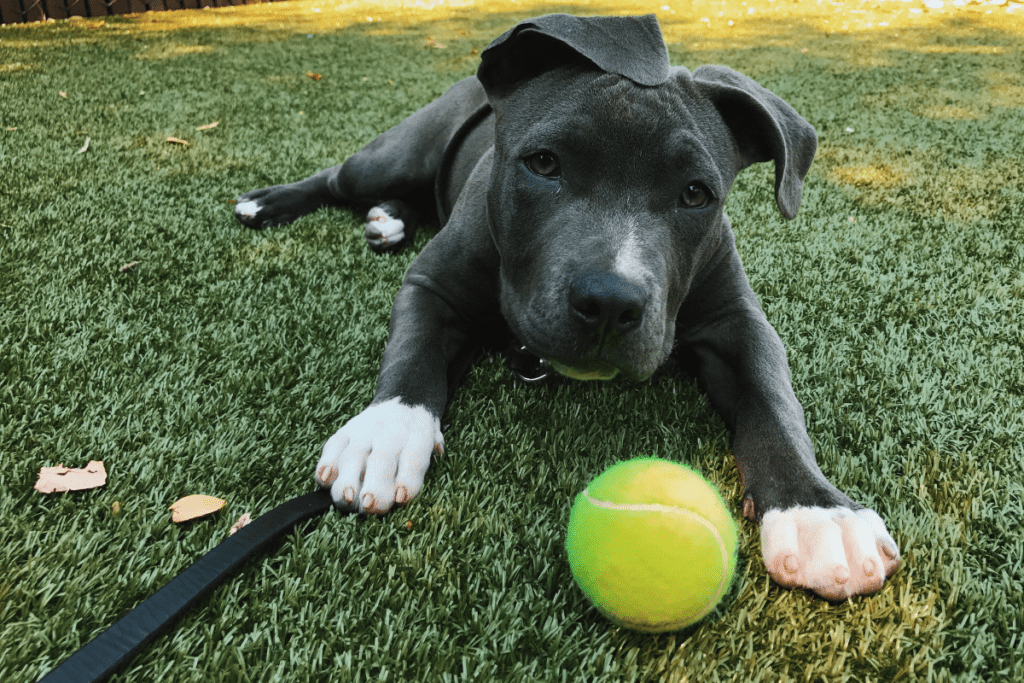 If you want your dog to stay out of trouble and not develop bad habits, you're going to have to engage with him or her as much as possible. There are many ways in which you can play with your pup, try tug-of-war, hide and seek or even play fetch using dog toys.
These are all great ways of stimulating your pit bull's mind and preventing boredom from setting in.
Start off small, let them win sometimes!
6. Take Care Of Yourself First
Your dog is your baby. She needs you. And if you aren't healthy, emotionally or physically, she can sense it and be put off by it.
That doesn't mean you have to work out every day and eat super clean, you just need to make sure that your general well-being is sound so that when it comes time for training, you can be focused and positive and loving (because no one wants to train with an agitated partner).
Get some exercise each day (even if it's just a 10-minute walk), meditate once in a while, practice deep breathing exercises at night before bedtime, whatever works for you.
7. Have Patience (It Can Take Years!)
The average dog owner is unaware of how long it actually takes for an animal to be trained. I hate hearing people say things like, I've had my dog for two years now, and he still won't stop.
The reality is that it could take years before your dog stops doing something you don't want him or her to do. So if you think training will happen overnight, think again!
Patience is one thing that can't be stressed enough! We all know what happens when someone tries to rush training. It doesn't work.
8. Handle Alone Time Well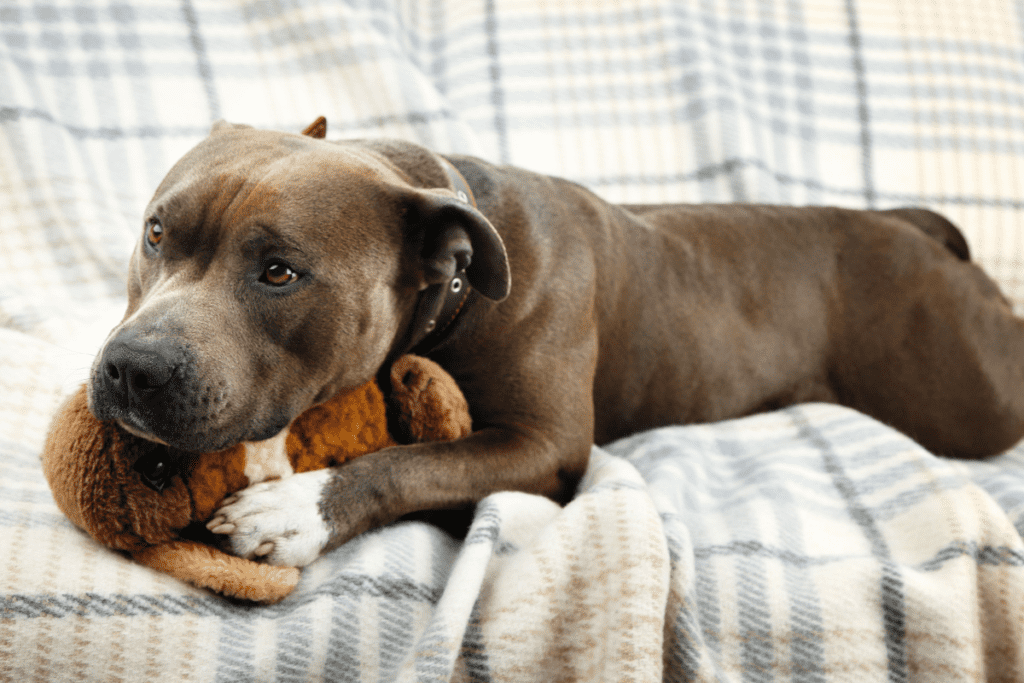 A dog requires your attention, and with that comes unavoidable periods of loneliness. If you work 9-5, your dog is going to be left alone for at least 8 hours each day.
So, you need to teach your pit bull how to behave properly when you or anyone is around. You don't want to come back to your house and find it flipped up.
This is done by establishing rules and boundaries from the start. For example, if you don't want your dog on the couch, don't let him up there when you're around.
And when you're gone, make sure he has plenty of toys to keep him occupied, as well as a comfy place to sleep.
9. Start Training Early On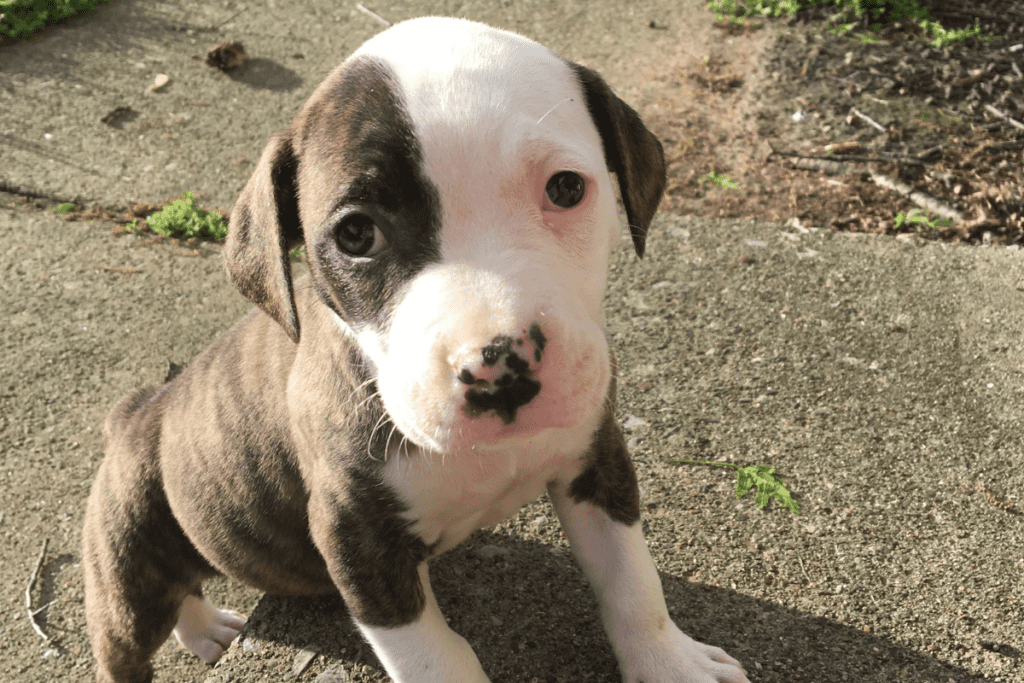 Start training early on. Pit bulls aren't difficult dogs, but they need to be taught that you are in charge and what behavior is acceptable and unacceptable.
Start with basic commands like sit, stay, come and down; also teach your dog its name. Make training fun by playing games with your pet and rewarding it when it does something right.
Never discipline your dog if you're angry or frustrated; do so only when you're calm and assertive.
10. Remember, You Are The Pack Leader.
Pit bulls, while they may be seen as man's best friend, are one of those breeds that have been bred over generations to respond only to their pack leader. That means that you, as the owner and leader of the pack, need to take on the role of being a fair, but firm leader.
This doesn't mean being overbearing or aggressive; rather, it means setting rules and boundaries and sticking to them. It also means being consistent in your commands and not sending mixed signals.
If you are the leader of the pack, your dog will likely respond better to obedience training and be less likely to develop behavioral problems.
Leading by example is always the best way to train your pit bull (or any dog, for that matter). Show him what you want him to do and he'll soon catch on.
Need Help Training Your Pit Bull?
There is plenty of training courses online BUT TrainPetDog is the best! Developed by a professional certified dog trainers you can train your Pit Bull easier!
11. Avoid These Common Mistakes
Due to their high intelligence and strong desire to please, pit bulls are easier to train than most breeds.
In this, they are very much like Golden Retrievers, but with an extra dose of energy and a terrier's stubborn streak and inventiveness thrown in.
So, your demanding handful of a best friend is also a potential obedience champion.
But you don't want to make these common mistakes:
Scolding Your Pit Bull When She Comes to You
Even if she ran off and ignored you when she clearly heard your call, even if you just watched her spend the last hour chasing rabbits while you're late for an important meeting, DO NOT YELL AT YOUR PIT IF SHE COMES WHEN YOU CALL.
Clearly, this goes for all your dogs, not just pit bulls. A corollary to this is NEVER CALL YOUR DOG TO PUNISH HER.
Why, you might ask? Why not reprimand her for not coming right away, or for running off when you told her not to?
Because if you punish your dog when she finally does come, she is going to associate answering your call with punishment.
This doesn't give her incentive to come in the future; it gives her reason to stay away, and come back later, after you've stopped calling.
Look at it from your dog's point of view. If she thinks, "my human is calling; oh no! What is he going to do to me this time?", she'll also think, "why not delay the punishment as long as possible? Maybe the human will be nicer in a couple of hours."
You want your dog to associate answering your call with good things–affection, treats, and loving behavior.Your dog is far more likely to develop perfect recall if she expects praise and a hug. And aside from life being a lot easier with a canine who comes when you want her to, there are times when it's absolutely vital that your dog respond immediately to your call.
If you put an extra note of urgency in your voice when she's heading in the direction of the road or the rattlesnake, you want her thinking, "my human's calling, gotta head his way," not "better run away faster!"
Rubbing His Nose In It When He Makes a Potty Training Mistake
This will just confuse the dog, and possibly make him afraid to go at all.
The correct way to house train your pit bull is to watch him for indications he needs to go, tell him "outside," and then take him outdoors right away. Once he has gone outside, praise him.
Also take him out at set times, such as when you first get up, before bed, after meals, etc.
Dogs thrive on routine. And when you can't watch the pit bull you're house training, make sure he is crated. This way you won't find any unpleasant surprises behind the living room curtain.
Using this method, even an adult rescue who has never lived indoors before will be house trained within a week.
Punishing Your Pit Bull for Something That Happened a While Ago
If you walk in and see that your dog shredded the couch, do not begin shouting.
She will think she's being punished for what she is doing now (possibly greeting you at the door, or lying on the floor wagging her tail), not for what she did a long time ago.
And keep in mind, 20 minutes before you got home might be a long time ago in your dog's mind. You'll just have to wait until she acts out while you're around to let her know the particular behavior is not appreciated.
Encouraging Bad Behavior
This could also be called "Don't Be Inconsistent."
If you don't want your pit bull begging for table scraps while you're eating dinner, never give him any. Otherwise he's going to cutely plead for you to give in again. Once out of every 100 times is more than enough to keep his hopes up.
To give a more problematic example, don't let your pit bull jump up on you. Even if you don't mind, visitors may feel differently.
Especially with a large, powerful breed such as the pit bull, your unsuspecting guest might get knocked down.
Many people are frightened of pit bulls to begin with, and they'll be terrified of the careening bundle of joy launching himself into the air to give them a facial with his tongue.
Don't flirt with disaster; make sure your dog knows which behaviors are simply off-limits.
Making Training Sessions Too Long
Like human children (and many human adults!), dogs have a relatively short attention span.
While individual canines will vary, the ideal training session is usually no longer than 5-15 minutes. After that, it becomes less of a game and more of a chore.
Your pit bull will learn far more from three ten-minute sessions scattered throughout the day than a single lesson taking an hour. This is especially true when training puppies, but it applies to adult dogs too.
There you have it. The mistakes pit bull owners are most likely to make are more or less the same errors trainers of all breeds are most likely to make.
You'll just want to keep in mind that pit bulls, while they can certainly be a stubborn handful, are a little more sensitive than most breeds.
Adjust your training accordingly by putting greater emphasis on positive reinforcement and avoiding harsh correctional methods.
Need Help Training Your Pit Bull?
There is plenty of training courses online BUT TrainPetDog is the best! Developed by a professional certified dog trainers you can train your Pit Bull easier!
How To Train A Pit Bull – FAQ
Are Pit Bulls Hard To Train?
Pit bulls are not difficult dogs to train, but they need to be taught that you are in charge and what behavior is acceptable and unacceptable.
As we discussed in the tips on how to train your pit bull above, it takes time and effort but they are not hard to train.
Why Are Pit Bulls So Stubborn?
Pit bulls are often seen as stubborn dogs because, sadly, they were bred to be that way.
For generations, they were bred for dog fighting and other similar activities where it was important for them to be able to withstand a lot of pain and not back down.
Nowadays, this trait is not as desirable but it does still exist in some pit bulls.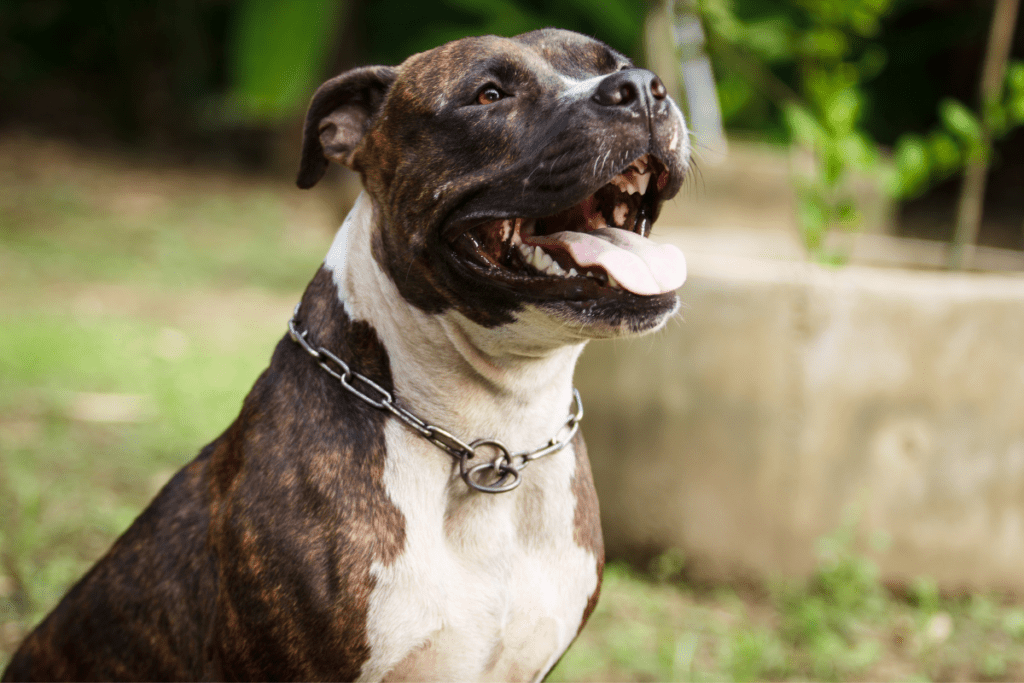 Is It Worth It To Train A Pit Bull?
Yes, it is definitely worth it to train your pit bull. A well-trained dog is a happy dog, and a happy dog makes for a happy owner.
Not only that, but a well-trained dog is less likely to develop behavioral problems and will be a joy to have around.
So, if you're wondering whether or not it's worth it to train your pit bull, the answer is a resounding yes!
What Age Should I Start Training My Pit Bull?
You can start training your pit bull as early as 8 weeks old. Puppies have a shorter attention span and will get tired easily, so keep training sessions short and sweet.
As your puppy grows older, you can start to train for longer periods of time.
Keep in mind that puppies are like sponges and will absorb everything you teach them, so make sure you are consistent with your commands and rules.
Conclusion
Pit bulls are not difficult dogs to train, but they do need firmness, consistency, and patience. Start training early on and be the pack leader.
With time and effort, you will have a well-trained pit bull that is a joy to have around.
Hopefully the tips to train your pit bull in this article has given you a good place to start.
We also recommend following this course to learn the best ways to train your pit bull from one of the best trainers in the world!
So what are you waiting for? Get out there and train your pit bull!