Before a dog's training has set in, it can be a chore to do simple things like taking him/her for a walk.  This is exacerbated with pit bulls, as they tend to be strong and can resist you pull more easily, leading to frustration, injury, and a loose dog.
It's important not to go forward if the dog is pulling.  It just reinforces the behavior, and they will be more likely to do it again.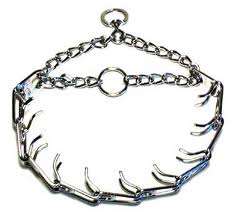 But asking, for example, a 150 pound woman to stand her ground against the excited determination of a 70 pound bundle of energy that we call the pit bull can be unrealistic.  And so some people recommend the prong collar.
A quick pop and the prongs pinch the dogs skin hard, which leads to instant negative reinforcement for the behavior.  Or so the reasoning goes.
That seems like a quick fix. But is it the best? After a brief email conversation with the Pit Bull Guru, I'm inclined to think: probably not.
Pressure applied with any collar can lead to neck, back, trachea, and esophogus problems.  And as this study shows, a dog's eyes are particularly susceptible.  The risk is increased with prong and choke collars.  Parts of a dog's optical nerves travel down the neck, and so constant pressure applied there can directly damange nerves, potentially leading to blindness.
But that's not all.  There are unintended behavior consequences with using prong collars as well.  Increased aggression and anxiety has been observed.  Whatever a dog is looking at or going after when they are "popped", its possible the dog will make a negative association with that object.
What if the object is a child playing across the street? Similar negative associations have been observed with shock collars.
These are important things to think about that can affect both the health and behavior of your dog.
So what's the solution?
First, it's important to train your dog properly to walk on a leash, starting indoors or in other controlled areas with minimum distrations before trying your hands in the wild.
Second, invest in a good walking harness. This distributes the weight evenly so when you pull back it will not cause any physical harm.