While all dogs should learn to walk on a loose leash, leash training is particularly important for pit bulls.
Having a properly trained pit bull walking on a leash can help you prevent many problems and will make walks overall more enjoyable.
So, if you have thought on training your Pittie or are thinking about it, I hope this article can convince you to take action and start asap on your pit bull leash training journey.
Why Should You Do Pit Bull Leash Training?
First, our beloved breed is incredibly strong; pit bulls routinely pull over a thousand pounds in weight pulling competitions. You really don't want to be dragged down the street by a dog capable of pulling 20-25 times his own body weight.
And second, the unfortunate combination of sensationalist media coverage and irresponsible owners has made many people afraid of–or at least apprehensive about–pit bulls.
Seeing a pit bull lunge toward anything that moves, while the helpless owner struggles to control his dog, plays right into people's negative preconceptions.
They don't realize that your dog is just exuberant and excited to be out; all they see is a very strong, out of control, and therefore–in their mind–potentially dangerous pit bull.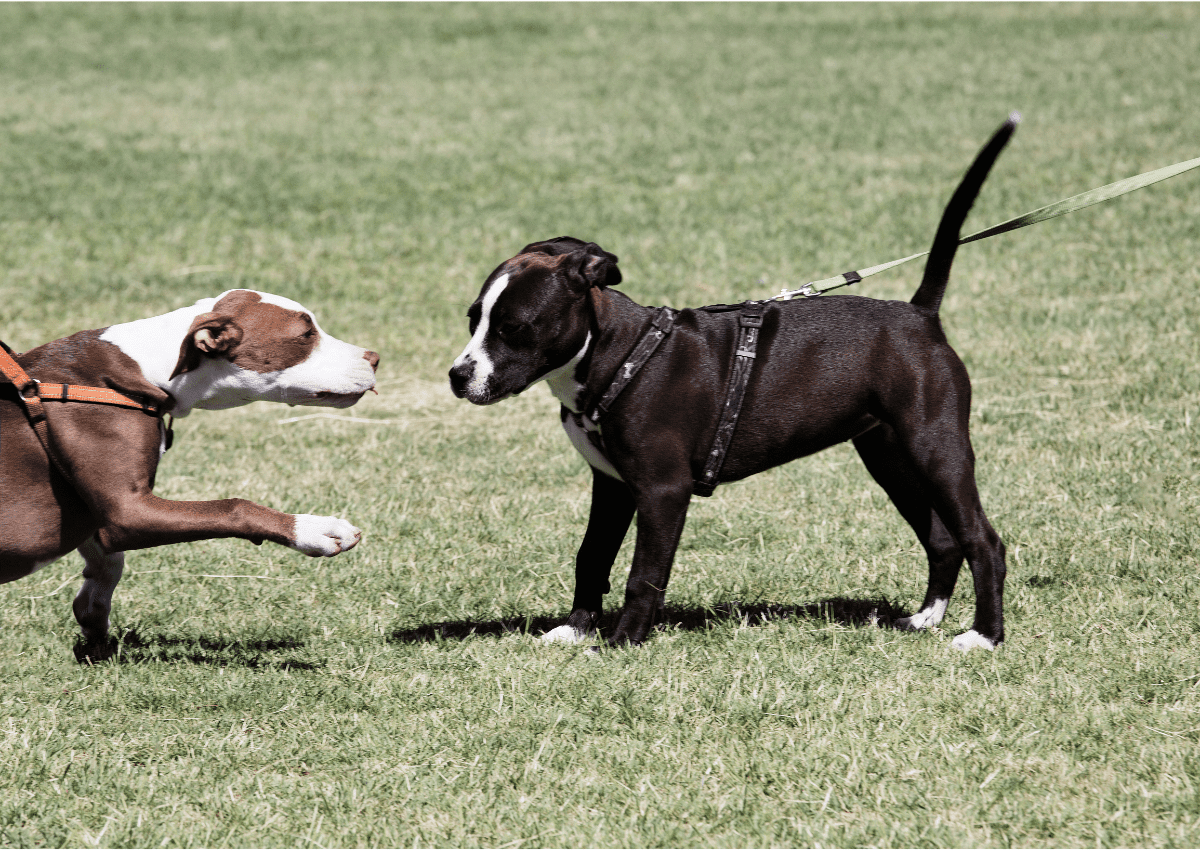 It's best to start leash training your puppy before he learns to pull, but if your pit bull has already acquired bad habits, you can still teach her to walk on a loose lead. Moreover, you can do it without using choke chains, prong collars, and leash corrections (due to the American Pit Bull Terrier's high pain tolerance, these "techniques" tend not to be terribly effective with pit bulls anyway).
It is, however, going to require persistence and consistency on your part.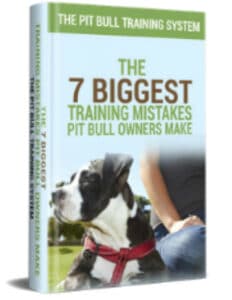 Get the 7 Biggest Training Mistakes free report!
Follow A Loose Leash Walking Course
While teaching a dog to walk on a leash is not too difficult, if you don't have experience doing it before or you have a particularly distracted pittie, things can get complicated fast.
Also, it's just always better to have expert help when training our Pit bulls, for leash training I like to recommend this Loose Leash Walking Bundle from SpiritDogTraining. They have plenty of training courses but I personally got the loose leash one and I can assure you it's helpful and easy to follow. You can check out their course here.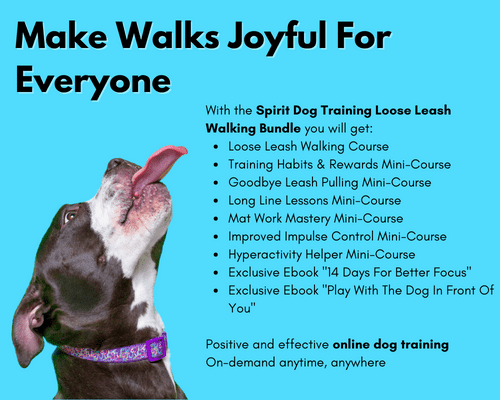 As mentioned before, having a Pit bull trained to walk on a loose a leash has a lot if benefits, not doing so can be troublesome for you, other dogs and specially your own Pittie.
But don't worry, in this article we will describe the basics for you to start, so hopefully you and your Pit bull can enjoy your walks more.
Principles of Loose Leash Walking
You're going to use a combination of positive reinforcement, extinction, and negative punishment (see Clicker Training Your Pit Bull for an explanation of the terminology) to teach your pit bull that:
A loose lead gets him where he wants to go and can even earn him delicious treats.
A tight lead gets him nowhere or can even take him farther away from the object of his desire.
In order to teach your Pit Bull to walk on a leash, the first thing you need – obviously – is a leash! Jokes aside, if you dont have one yet, you can check out a few options  here .
What else would you need to leash train your pit bull?
A standard, non-retractable 4-6 foot lead.
A bag of extra delicious treats about the size of salad croutons. These need to be special; i.e., not your usual training rewards. Pick something your pit bull finds irresistible.
A treat pouch or bait bag that attaches to your belt or ties around your waist.
A clicker (optional).
Time and patience!
TIP: If you have an adult or adolescent pit bull who's already acquired a strong pulling habit, you may want to consider fitting him with a Gentle Leader head collar for walks.
The Gentle Leader won't prevent a determined pit bull from pulling, but it will give you substantially more control.
Getting Started
Before you put your dog on lead, make sure she's had an opportunity to release some of that famous pit bull energy. Let her run and play until she's at least a little bit tired.
Initially you'll be working in an area with few distractions, perhaps even your backyard. Have your dog sit and clip on the lead. Start walking with the lead in one hand and a few treats in the other.
When your dog comes up next to you, click (if you're using a clicker) and treat. Your hand should be at your side or even a little behind you as you deliver the treat to your dog. Start walking again and repeat.
Your dog is beginning to learn that walking right by your side pays off. If he gets ahead of you, quickly change direction, so he's behind you again.
As he comes up next to you, click and treat. Gradually you'll be increasing the number of steps you take before you treat him.
At this point, you're relying entirely on positive reinforcement to teach your dog that walking next to you is a good thing. Once you're able to take a 10-15 minute walk with the leash remaining loose the entire time, you can start venturing into an area with more distractions.
Adding Distractions On Your Training Process
Don't be surprised if it seems like all the lessons have been forgotten when your pit bull suddenly finds herself in a more stimulating environment.
There's so much to explore and so many potential new friends to greet that you may have a hard time keeping her attention focused on you. Even the treats she adored while practicing in a less interesting area seem to have lost some of their appeal.
All of this is perfectly normal, so we're going to add two more tools to your arsenal. You'll use the first if your pit bull lunges ahead of you out of general excitement and the second if she is trying to reach a specific destination (e.g., a bush or tree, another dog, a person, etc.).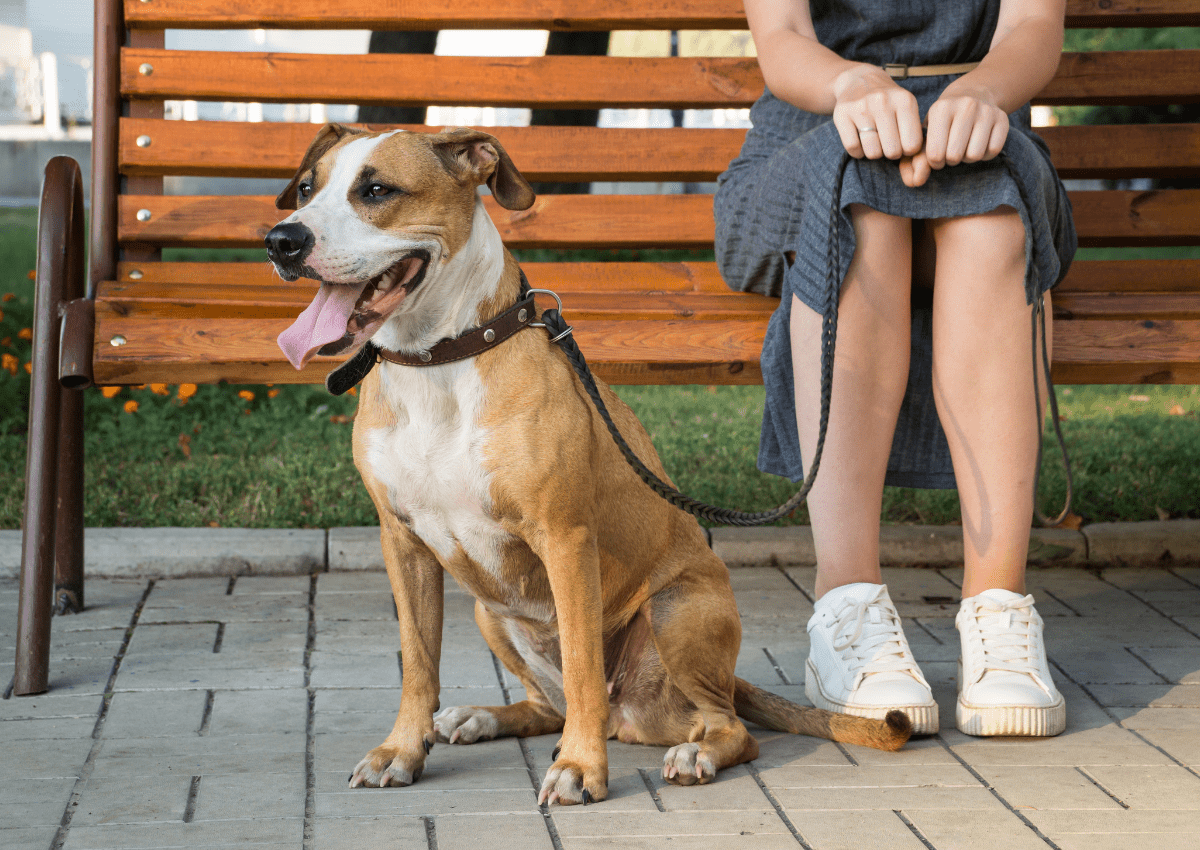 Method 1 (Extinction): The second your pit bull gets ahead of you and the leash begins to tighten, you will stop walking. Don't take another step. Just stand there until she returns to your side and the leash is loose again. Then start walking again, clicking and treating when the leash is loose and your dog is by your side.
Method 2 (Negative Punishment): If your dog lunges ahead toward something specific, turn and walk 5-10 steps in the opposite direction. As long as the lead is loose, you'll walk toward whatever it is your dog is trying to reach (positive reinforcement), but every time he lunges ahead and the leash tightens, you'll take a few steps in the opposite direction (negative punishment).
The key to this entire method is that you never take a step when the leash is taut, while simultaneously rewarding your dog for walking by your side.
For a puppy who's new to walking on lead, this means he'll never learn to pull in the first place.
For a pit bull who's already learned to pull, it means he'll gradually unlearn the undesirable behavior and learn to walk at heel instead–if you are consistent, that is.
Allowing your pit bull to get away with pulling even occasionally will unfortunately reinforce this behavior. Initially it may take 30 minutes to walk the length of a short block because you'll be stopping and reversing direction so often. That's okay. Never practice leash walking if you need to be somewhere at a particular time. Tolerating a tight lead even once will set back the progress your dog has been making.
However, if you're patient and consistent, you'll be rewarded with a pit bull who walks beautifully by your side, making walks a pleasure for the both of you.
Final Thoughts
Teaching your Pit Bull to walk on a leash can be challenging but it's also fun, it will bring you and your Pittie closer.
I personally following a training course to cut down time on seeing results and just make it easy overall. If you need a course, you should check out this Loose Leash Walking Bundle. It's cheap, easy to follow and has great reviews!
Regardless if you follow a course or not, I hope you can successfully train your Pit bull on a leash, it does make a difference when doing walks.