Finding the perfect crate for your Pitbull is challenging, as the market has thousands of options.
From dog houses and pet beds to exercise pens and crate kennels, there's a massive selection of dog crates in the market. With so many options, finding the ideal one can be overwhelming.
But with this buying guide, you'll be able to determine the best Pitbull-friendly crate for your pet that you can count on in the long run.
5 Best Dog Crates For Pitbulls
Lucky Dog Uptown features a stainless-steel build. The materials utilized for its manufacture are durable, removing the need to worry about general deterioration or corrosion.
Each part of the product was made with care—there is the tight spacing between the wires, the package has the most durable covers, and no sharp edges too. The fact that its cover is UV-resistant deserves words of praise.
Another thing you will love about this model is the hassle-free assembly, which needs no special equipment and tools and can be done in less than ten minutes. The crate also has raised legs, which turn the cleaning process into a breeze.
Pros
Simple cleaning
It comes with a cover
Robust construction
Cons
Midwest Life is ideal for budget-conscious Pitbull owners. This reasonable folding double-dour craft cuts the housebreaking time in half and can lessen the behavioral problems of your pup.
It is a versatile model, and one cool thing about it is its divider panel, allowing you to adjust the length of available space when the need comes. Also, adjusting the divider as your Bully grows removes the need to buy numerous cages of different sizes, which is yet another cost-efficient quality of this kennel.
This crate features double doors for hassle-free placement in the car or the corner of the room, allowing for both side and front access. That simplifies things, particularly if you are a dog owner who often travels with your pup.
Pros
Reasonable price
Double doors
Adjustable divider panel
Cons
Gunner Kennels is a great solution for dog owners who travel a lot, thanks to its well-ventilated interior, sturdy construction, two separate locks, rubber feet, and overall compact size.
It can house dogs at least 75 pounds in size and features double-walled roto-molded plastic as its main build material. The only thing you will need for its assembly is a screwdriver. Also, it takes only half an hour to put it all together.
This dog crate model offers plenty of holes in its walls and gates, offering your pup a breathable environment. As mentioned, it has two locks on its doors (sliding button and paddle latch), a drain plug for simple cleaning, and rubber feet that grip the car's cargo floor.
Those characteristics will enable you to travel with your Pitbull effortlessly. This model surely did a great job.
Pros
Two locks
Simple assembly
Plenty of ventilation
Cons
Carlson Secure offers your Pitbull simple access and a comfortable environment with its simple but chic design. It features see-through walls, enabling you to monitor your pup easily.
The model's full steel body is highly durable and can easily accommodate a dog weighing about 120 pounds. Keeping the crate's hygiene is also effortless, thanks to the inclusion of a detachable black-colored composite pan.
The model's compact design makes it suitable for indoor use. It will offer your Pitbull a haven for relaxing and sleeping, and honestly, this model is probably the best indoor dog crate we have had the chance to test. Overall, it is a worthy investment and one we genuinely recommend.
Pros
Removable pan
Compact size
Excellent for indoor use
Cons
Not suitable for destructive dogs
ProSelect Empire is one of the sturdiest crates in the market. It's a heavy-duty kennel, with weight and construction guaranteed to prevent even the most aggressive Pitbulls from escaping.
Each stress point on the surface of this dog crate has undergone heavy-duty welding, not to mention its covers have been rounded off. This crate is also rust-resistant.
Another unique feature of this dog crate is that it has strong latches on the front door. They have been built to prevent your Pitbull from getting into contact with them. That also stops even the smartest escape artists from getting out. How cool is that?
You will also love that the dog crate has a removable steel tray (for easier cleaning) and removable caster wheels (for smooth transportation). Those and other features contribute to its high price, which is the only complaint we have about it. Still, there is great value for the money here.
Pros
Rust-resistant
Grated floor tray
Robust construction
Cons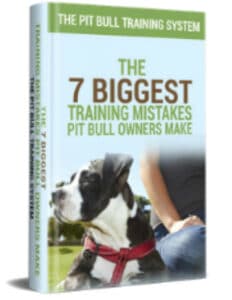 Get the 7 Biggest Training Mistakes free report!
Things To Consider When Buying Crates For Pitbulls
The choice of a kennel for a Pitbull must depend on your dog's temperament, age, and size. What works for one Pitbull may not work for another, as those dogs can be as lively as they are lazy.
Nonetheless, we think a quality wired model is the most realistic choice for an owner of a Pitbull. Those products are structurally sound and must keep the dog safely container. However, that may not work for the aggressive Bullies, as they could detach the non-welded corners with their teeth and create a hole for escaping.
For Pitbulls of that temperament, a heavy-duty model is a good option. Having all parts welded and made from galvanized steel, such a cage is ensured to stop even the biggest escape artists from realizing their plans.
Crates vary in different ways, including materials, size, and design, but ones well-suited for Pitbulls all share several crucial features.
Size
It will help if you get a crate that's neither too small nor too big for your Pitbull. A very small crate would be uncomfortable and result in injuries for big dogs. A very big crate might cause behavioral problems, such as pooping in the crate.
Finding the proper height is essential as finding the correct length. You must measure your Pitbull and add about twenty-five percent of the height to the obtained measurement. The number will provide you with the minimum required height for your pup's new safe place.
Also, with a model of the correct size, your furry friend can stand, sit, and turn around 360 degrees without any problems. Sufficient comfort is integral—ensure you give that to your dog.
Durability
Buy a crate that can stand the test of time. Purchasing new crates every year can easily add up, possibly costing more than buying a more durable one at once.
Portability
Pitbull owners that travel often must opt for crates that are travel-friendly. That indicates that the crate should be simple to assemble, lightweight, and foldable. Also, consider the type of transport accessible, for instance, airline regulations (if you're traveling via air) and car size.
Functionality
Various dog crates will provide various benefits, such as having side doors or double doors for easier cleaning, a removable plastic tray, or a detachable crate cover for cleanup.
Location
Dog crates that are always on display normally need more aesthetic maintenance, unlike dogs in isolated areas such as the garage. Wooden crates are a common option for display crates, as they can function as end tables, too.
Material
Dog crates come in a wide array of materials. The most common are wire dog, metal, and plastic crates. The perfect material for your Pitbull will depend on your personal preferences and your dog's needs.
Dog's Temperament And Behavior
Sturdier crates are ideal for more aggressive and active dogs, as your dog can easily damage or break a flimsy one. Meanwhile, a calm Pitbull will do just fine in a simple crate.
Price
The ideal price for a Pitbull crate depends on your budget. However, it is essential to remember that a comfortable and durable dog crate is often worth the plunge.
Dog Crates For Pitbulls – FAQ
Should You Also Buy An Extender?
The fact that your Pitbull fits inside its extra-big crate does not mean it can fly (travel) with you. If his head or ears is touching the kennel's ceiling, you must leave him behind.
The International Air Transport Association (IATA) requires about three inches of clearance above the tip of the dog's ears when traveling overseas.
Only the models fulfilling that requirement are permitted on planes—it is to guarantee the dog's comfort and safety during the long rides.
Luckily, you don't need to buy a new product if the one you have already met the requirements. The extender kits sold by pet equipment manufacturers can efficiently address this issue. An extender can also keep your crate in compliance with the guidelines and enable you to take your dog on a plane.
How Big A Crate Needs To Be For An Adult Pitbull
So you have become the proud owner of an adult Pitbull terrier and have your home and car all prepared to accommodate this massive bundle of energy. Filled with athletic strength from head to toe, this breed of dog craves for exercise as a man craves for his hard-earned vacation.
A major part of their personality can be attributed to their immense strength and energy, which they put into climbing tall fences, busting open locked gates and digging up earth with amazing speed and stealth. Their ability to leap over tall fences is renowned all over the world and if you are a couch potato, this dog will turn you into an athlete.
Usually the bull terrier is bought as a puppy and then trained to become a rescue dog or a search dog. You may have to work with your dog for about half an hour everyday. If he is not already crate trained, then now is the time to get started. remember not to use the crate as a punishment area during the beginning stages of crate training your Pitbull or she will never get used to it and the purpose will be lost. Your dog should feel positive about it and she should feel safe around it.
Making a crate for your bull terrier will be good for his health too. It is a part of this dogs training to be wary of strangers. When you start using it for punishment, then your dog will resist going towards it and there ends your crate training. Make crating hours a pleasant experience by duly rewarding him with little gifts and treats. He should also be taught to recognize cues and obey them when it's "crate time" for him.
Invest good money in a crate that lasts long. Just like you get chewable dog bones and toys, make sure these crates withstand chewing too. You don't want to have to keep reintroducing your dog to a crate.
In addition, there is no guarantee that your dog will accept a new one.
How to Select the Size of the Crate
Crates are not prisons; Pitbulls should never feel imprisoned inside of one. In fact, they should be provided with enough toys and chewables inside their crate so that they are happy and satisfied. The size of the crate is very important. You can buy a small crate for a small Pitbull but you will have to get a new one when he grows and begins to look cramped.
Since they are highly energetic dogs, there should be ample space for them to walk around, jump and play. The crate should be big enough for him to take a few steps and it should offer a good view and ventilation. Since there are different types of crates, buy one that provides him with a 360-degree view so he can look everywhere while inside it.
There are crates in wire and plastic form. People usually prefer wire crates because they are ideal for travel purposes and can be packed away for easy transportation. Plastic crates will contribute to a den-like feel and add to the bull's comfort level.
When To Start Crating
It is a good idea to start your crate training when the bull is a mere pup. There is no point in thinking that it is a mean and merciless thing to do to a dog, it is actually good for your dog. Keeping the pup inside it will increase its security and aid it in becoming comfortable during the initial days of confusion.
In the beginning, don't keep him in the crate for long hours. Increase the time slowly and once she becomes an adult, you can keep her inside the crate for 4-6 hours. Don't keep her in longer, because considering the energy level of Pitbulls, she will not be able to stand the confinement.
Pitbulls are sensitive, they should not feel that you are putting them in a crate because you have no more use for them.
Where To Keep The Crate
The placement of the crate is very important because you don't want your bull to have behavioral problems as a result of isolation. They are friendly and sociable, keeping them away from other members of the family will be torture for them, and they will start to lose their friendly nature.
Understand the bathroom needs of your bull and recognize the signals when he says that he wants to go out. Don't keep the crate where there is not sufficient ventilation or sunshine.
Pets love being able to look outside, watch the family members at work and generally enjoy the sights.
Online Stores That Sell Highly Durable Crates
So many online stores sell good quality good-sized crates. Reputed pet stores are abundant with online catalogs of quality crates and you can find out the exact amount of money you have to spend on a crate.
Compare prices and talk to other dog owners about the crates they have bought for their pet, so you will know whether a particular variety is durable or not. Note the size of your adult dog and visit an online source that has a wide collection of crates.
If you buy a large crate it can be a permanent home for your bull, but you can get smaller one to accommodate you Pitbull at its current size if you are planning to travel with your bull often.
A crate is the safest place you can have your Pitbull when traveling, among strangers and children and it is an effective tool for training.
Conclusion
With so many models and brands available on the market, choosing just one of these handy products can be challenging. The best crates for Pitbulls depend on many factors, but we hope this post helped you choose the best one for your four-legged friend. We wish you luck on your buying journey!