Due to their high intelligence and a strong desire to please, pit bulls are easier to train than most breeds, but don't misinterpret our words, they require time, effort and lots of love!
Pit bulls are smart but they come with an extra dose of energy and a terrier's stubborn streak and inventiveness thrown in. You have a potential obedience champion at home but some common training mistakes can sabotage any training efforts.
No system you put in place will operate at 100% unless you stop doing these things. Hence why we want to share the mistakes we have seen ourselves and other Pit Bulls owners make. We are not veterinarians or dog training specialists, these are "tips" coming from one Pit Bull owner friend to another 😉
In this free 6-page report you will get explained how these #7 mistakes can undermine your and your pittie hard work when training.
So if you are interested in getting this free report and joining our newsletter – you can unsubscribe right away if you don't want to be on it after getting the report – feel free to fill out the form below.
Free Training Mistakes Report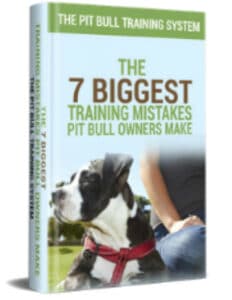 Learn the 7 Biggest Training Mistakes Pit Bull owners make for free and join our newsletter!
Just add your email below and get the free report.