If you are an owner of a pit bull and would like to teach it how to walk beside you with a loose leash then this is the article for you.
As long as you follow these simple procedures you should soon enjoy your walks with your beloved animal.
First Steps In Training
Before you start your training for the day it is best if you allow your pit bull to release some of its energy. Let your playful puppy run and play in a safe and secure place, for instance your fenced back yard, until it is a little bit tired. This will ensure that you will have a more successful training.
At first you will want to start the training in an area that has very few distractions. You want your dogs full attention so eliminating as many distractions as possible will be beneficial. Your backyard may be the best place to start the training. The first thing you will do is have your dog sit down. Then you will clip on the lead. You will then start to walk while holding the lead in one hand and a few treats in the other. When your puppy walks up beside you, click if you are using a clicker, and give a treat. Always make sure that your hand giving the treat is at your side or a little behind you as you give the treat to your animal. Start walking again and wait for your dog to come up beside you again, as before, click and give a treat. Repeat this process over and over. By repeating this process over and over you are teaching your dog that if it walks beside you it will receive a treat. This is great incentive for your animal to want to walk beside you.
If you are walking and your pit bull decides to walk in front of you, you should turn abruptly around and start walking the other way. This will then make it so that the dog is behind you again instead of in front of you. When he is at your side again, click and give a treat. Always be consistent in this process, never allow your pet to walk in front of you. Always turn around if he gets even one step ahead of you.
While using this training process, you will gradually increase the number of steps that you take before you reward your dog with a treat. This is a great way to teach your pit bull to walk beside you, not in front of you, and all you are using is positive reinforcement. You are simply turning around if he gets in front of you, not getting mad and enforcing some sort of punishment. This teaches your dog that it is rewarding to walk beside you, not in front of you. Once you are able to walk with your animal for about 10-15 minutes with the leash being loose the entire time, you are ready to start adding distractions to the area that you are training.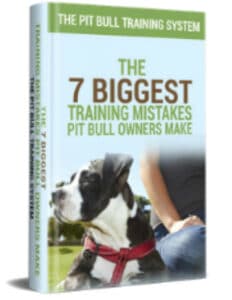 Get the 7 Biggest Training Mistakes free report!
Adding Distractions
Don't be surprised if the first few times that you take your animal out for a walk with more distractions that he will find it hard to focus only on you. This is okay because it is part of the training. The goal is to have your dog walking beside you at all times with the leash loose no matter where you are, but you can't reach that goal if you don't give your dog distractions to learn this lesson with.
There are two reasons why your animal may suddenly rush ahead of you. You must decide which reason your dog has lunged forward, and then follow these simple steps according to the situation. The first reason that your pit bull may run ahead of you would be out of pure excitement. The second reason would be that it is trying to reach a specific destination. An example of this would include another dog, a person, a bush, or a tree.
If your animal races ahead out of pure excitement you should simply stop walking. Do not take one more step. Just stand there and hold your ground until your animal returns to your side and the leash is loose again. After your animal is at your side again you can start walking again, following the same process of clicking and giving a treat when your dog is at your side.
If your puppy races ahead because he is trying to reach a specific destination, you should immediately turn and walk 5-10 steps in the other direction. This will teach your animal that as long as the leash is loose, you will walk towards whatever your dog is trying to reach. However, if the leash tightens because he raced ahead, he will ultimately end up further away from the destination that he wanted to reach.
The main thing for you to remember is that you have to be steady and consistent. Never take a step if the leash is tight. Always reward your animal for walking by your side. As long as you are consistent in this process you should have no problem training your pit bull puppy. If your pit bull already has the bad habit of pulling while walking, then this process will unteach him that habit. It will take more work, but you can train it to walk by your side with the leash loose.